Jocelyn Cheung
Based in Taipei

Product Designer
@Connected
2020



Leading up to the current state of events, the podcast industry has, in the past few years, sustained strong and steady growth in investments, listenership, and innovations. The industry proved itself to be versatile despite the pandemic. In this project, we explore upcoming trends and reimagine the future of podcast listening.


I lead this project from beginning to end, drafting a project plan, outlining its goals, and recruiting the skills needed to run it. Along with another project manager and designer, we work in lockstep with the company growth team to inform business development.



1.
Business
Research


Compare the unique offerings of key players to uncover opportunity areas through product reviews and trends gathering.

Competitive Analysis

Trends Analysis

2.
User
Research

Uncover listener behaviours and needs in the current landscape.

User Interview
Customer Profile
3.
Concept Generation

Idea generation and prioritization based on user needs, product impact and trends fit.

Ideation Workshop Affinity Mapping
Concept Prioritization

4.
Prototyping


Prototype prioritized ideas in low-fidelity and test with listeners to validate demand and develop concept.

Low-fidelity Wireframes Design Critique
Concept Evaluation Interviews

To supplement research previously done on the podcast ecosystem, we focused on understanding the strategies of different industry players. Some of the players we looked at include Apple Podcasts, Google Podcasts, Spotify, Pocket Casts, Breaker, Overcast, and Luminary.

In addition to comparing different competitors, we summarized recent press releases, tech news, and industry reports to extract five emerging trends.

We conducted a series of interviews across potential podcast listerners, casual listeners, and frequent listeners. Coupled with some digital archelogy (fancy term for combing through online user reviews), we created a series of user profiles with themes in Discovery, Interoperability, Consumption and Sharing.


Armed with new insights, we created a series of How Might We Statements to ground our ideation process. In the session, people from different company disciplines, comprised of casual and avid podcast listeners help generate ideas for future podcast listening.

Some of these statments includes:

Interoperability—"How might we empower listeners to listen anywhere, across any number of platforms and devices, without interruption?"

Sharing—"How might we enable sharing, facilitate discussions and nurture communities for both listeners and content creators?"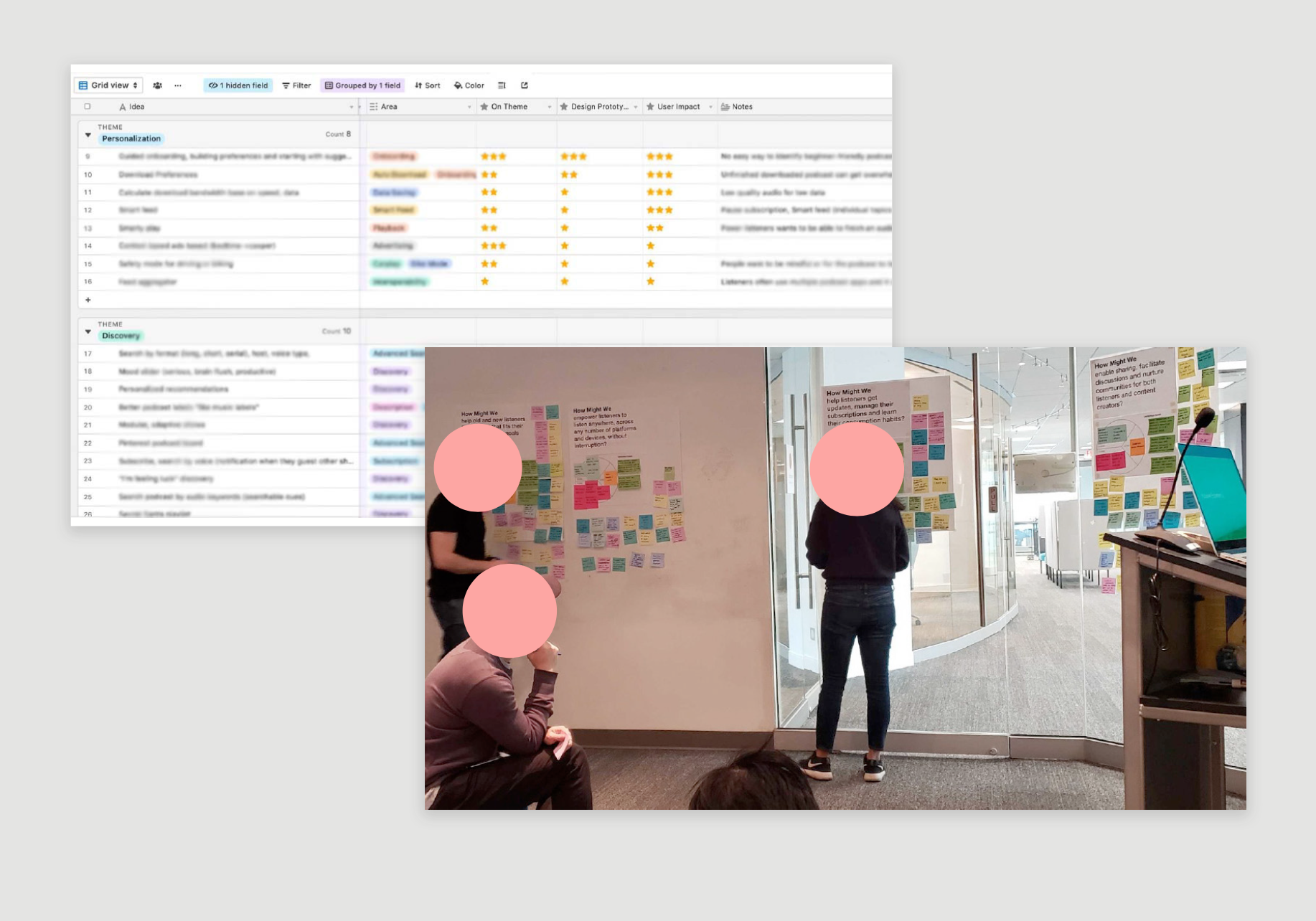 The resulting stickies were then sorted into group and refined. We used Airtable to associate similiar ideas and evaluate them based on three criterias:

User Impact︎︎︎
Does it provide value to listeners?

On Theme︎︎︎
Does it match any emerging trends?

Feasibility︎︎︎
Can it be validated within our capabilities?


The winning ideas graduate into the next phase along with input from the company growth team.

The goal of prototyping is to give form to our ideas so that they can be used towards concept validation.

We created a series of low-fidelity wireframes and scripts (for voice-driven concepts) and opened it up for design critique. Using Figma, we stitched frames into coherent prototype experiences and created scenarios for user testing. During these sessions, we narrated and asked interviewees how they will use these features. Some of these features includes:



Guided Onboarding

Contextual Recommendations
Multi-Media Listening

Audio Timeline Discussions

Public/Private Group Sessions

Armed with insights from our test sessions, we summarized our efforts in the forms of ︎high-fidelity wireframes, ︎animated GIFs, ︎video demo with commentary, and ︎a report of our business and user research.



This case study is abridged. To see more of the final artefacts, contact me for an online demo.