Jocelyn Cheung
Based in Taipei

NDA Protected


The nature of my work at Connected is confidential. Below is a sample ︎discovery project and the methods commonly used in my practice.
1.1 Project Kickoff

An in-person or remote meeting with project stakeholders to align on the project north star, activities (
See Connected Playbook
︎︎︎), gather resources, setup tools and establish collaboration cadences.
1.2 Stakeholder Workshop


An in-person or remote workshop featureing a series of individual and collaborative exercises (e.g. persona worksheet, storyboarding, omni-channel experience mapping) designed to extract and unify knowledge across subject matter experts.


2.2 User Research



Getting to know the people using the products via surveys, product reviews, focus groups as well as on-site and remote user interviews and usability testings.


2.3 Research Synthesis

Synthesizing findings in the forms of insight statements (See
steps
︎︎︎), personas, customer profile (Part of the
Value Proposition Canvas
︎︎︎), journey map and UX storyboards. Focus on building a modular database (Via tools like
Sheets
or
Airtable
︎︎︎).
3.1 Framing Insights

Turning insights from the last phase into opportunity areas or How Might We statements (e.g.
HMW Statement builder
︎︎︎) that primes the mind for innovative thinking.
3.2 Ideation Workshop

A series of remote (
Miro
or
Mural
︎︎︎) or in-person exercises (e.g.
Creative Matrix
,
Crazy8's
) where participants write down or draw out ideas using HMWs, scenarios (See
Wild Combination
︎︎︎) and technologies as prompts.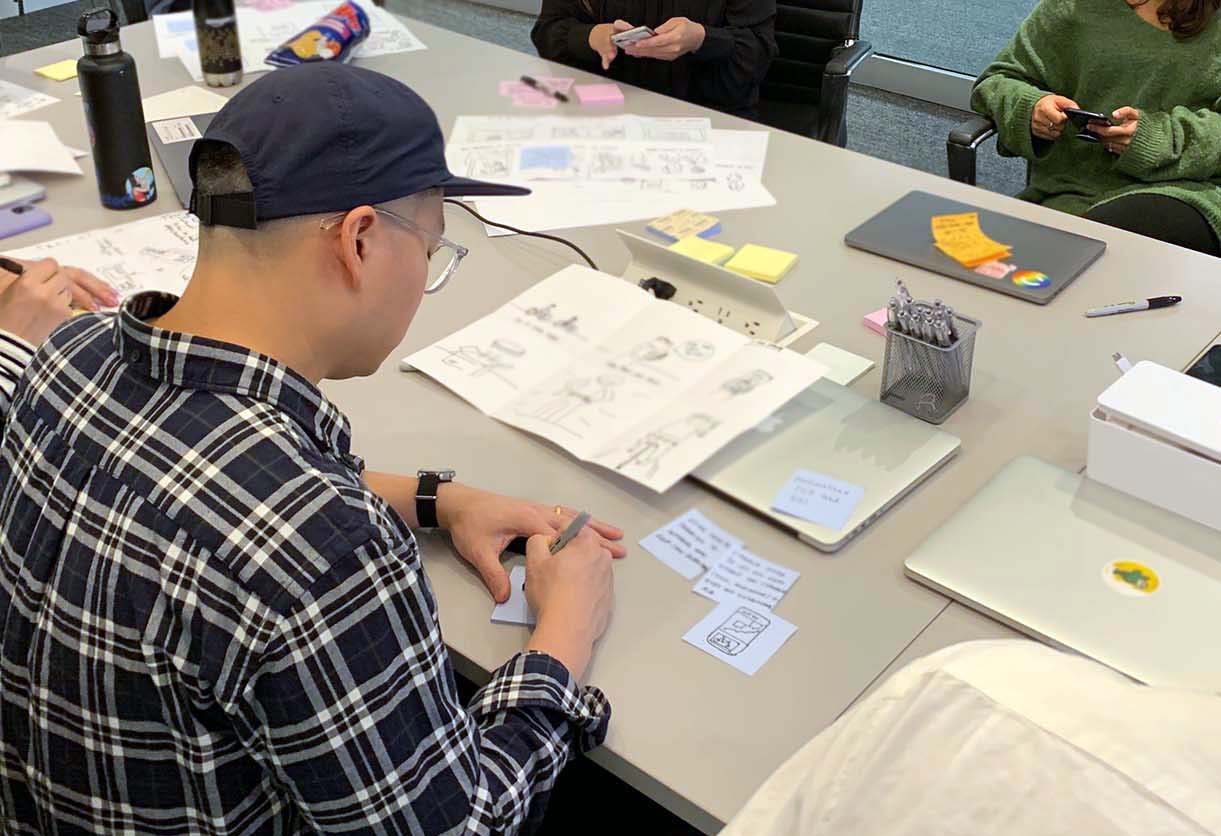 ---
4.0 Decide
4.2 Value Mapping

Mapping and expanding on ideas by building out the Value Proposition side of the Value Proposition Canvas to ensure product-market fit (See
fit types
︎︎︎) between the idea and the customer needs.
4.4 Test Planning

Defining the type of tests needed to address product risks and outlining metrics and success criteria. (See
Test Card
︎︎︎)
---
5.0 Prototype
5.1 Low-Fidelity Prototype

Creating a basic interactive prototype base on prioritized ideas and test requirements using open-source or in-house engineering and design resources. (Tools:
Invision
︎︎︎, paper and pen)
5.2 Product Scenarios


For ideas that involve emerging technologies (AR, ML) or unique inputs (voice, touch), ochestrating and scripting a simulation of the actual product experience.

6.1 Desirability Testing


Understanding whether an idea appeals to or addresses needs for customesr through a series of quantitative and qualitative test methods. (e.g. Kickstarter)

6.2 Viability Testing

Understanding whether the business model is sustainable through a series of quantitative and qualitative test methods. (e.g.
Expert Review
︎︎︎, Single Feature MVP)
6.3 Feasibility Testing


Understanding the technology and design requirements to execute the idea through a series of quantitative and qualitative test methods. (e.g. AB Testing, Technical Spike)


6.4 Usability Testing

Understanding whether an idea is easy to understand and operate by customers through a series of quantitative and qualitative test methods. (e.g. Usability Testing,
Cognitive Walkthrough
︎︎︎)
7.1 Test Synthesis


Organize test findings and identify areas of improvement.


7.2 Concept Refinement


Refine ideas and implement design changes in preparation for presentation and or demonstration.